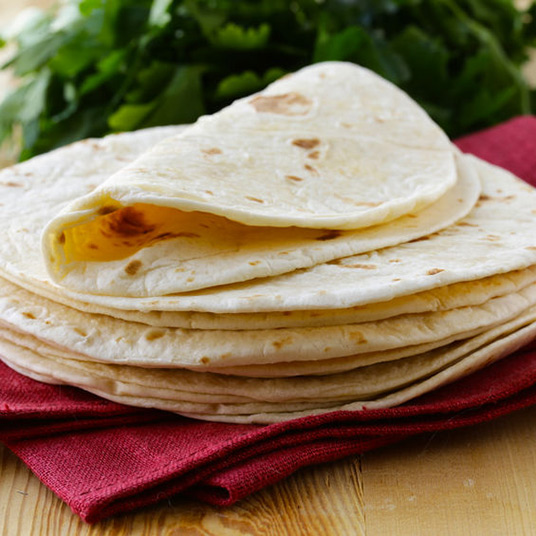 Our ingredients include a wide range of Baking Powders, Dough Conditioners, Flavors, Batch Packs, and Shelf Life Systems that can manipulate the functionality of your tortilla to improve quality and make the product run better.
With our unique formulas and extensive R&D team, we have the capability to control all aspects of your tortillas:
Strength & pliability
Softness
Chewiness
Texture
Translucency
Tortilla color
Shelf life
Clean label
Organic label
Our Ingredients Used to Make Tortillas:
Chemical Leavening
Our baking powder provides greater control of oxidation release timing to precisely deliver the desired volume of your sweet goods. The acid-base reaction in the oxidation process is responsible for expansion, flavor, color and texture.
Single Acting (provides a single release of gas generally in the oven)
Double Acting (provides two different release of C02 one in makeup and the second in the oven)
Sodium Free (by removing the sodium, it drastically reduces the overall levels in the finished product)
Organic
Natural
SAS type (utilizes sodium aluminum sulfate acids)
Frozen Batter (this helps if there is a lot of floor time or the line goes down)
Calcium Enriched (This can help you make a calcium claim on finished product)
Encapsulated (This can add tolerance in the baking process and can help with the shelf-life)
Non-GMO Projected Verified
Shelf Life Systems
Extend the shelf life of your tortillas with our special ingredients formulated to maximize the product's softness and pliability.  Our ingredients help to reduce mold and staling and prolong the shelf life for greater efficiency.
Thymly Fresh GEN-Z (our newest shelf life system that uses newly developed strains of enzymes to push softness & pliability even further)
Thym-Max (Maintains softness through Mono & Dies)
TPI Shelf-life (Maintains softness through Enzymes)
Sodium Propionate (to reduce micro bacterial growth in Flour & Corn Tortillas)
Calcium Propionate (to reduce micro bacterial growth in Flour & Corn Tortillas)
Flavors
Enhance the taste of your sweet goods with our vast selection of unique flavorings. With our custom flavors we can create a more well-rounded, more pronounced flavor for your sweet treats. We can also mask less desirable flavors resulting from the acids and bases to minimize the bitter or soapy taste.
Sweet
Savory

Masking Agents
All flavors are available in Allergen Free, Kosher, Pareve, Powder, Liquid, Natural, Organic and N&A.
Batch Packs
Achieve greater consistency and efficiency with a customized batch pack of base ingredients for your tortillas. By blending all the essential ingredients into one, you can streamline your process, simplify inventory, reduce waste, prevent mistakes and control costs.
Homestyle type of Tortilla Base (Provides a thicker and fluffier tortilla)
Food Service type of Tortilla Base (provides a thin & translucent tortilla in a cost-effective manor)
Low Carb Tortilla Base (provides a healthier option through reduced carbohydrates)
Clean Label Tortilla Base (your customers can pay a premium to have a clean label option for tortillas)
Encapsulating Ingredients
Lowering the pH, improve quality, reduce costs and create greater shelf stability for your tortillas with our specialized blend of encapsulating ingredients. Controlled release of the acid during baking lowers the pH at just the right time to improve the performance of the preservatives.
Encapsulated Fumaric Acid
Encapsulated Ascorbic Acid
Encapsulated Baking Powder
Encapsulated Sodium Bicarbonate
Encapsulated Sorbic Acid
Encapsulated Citric Acid
Clean Label Products
Caramel Color Replacer
SSL Replacer (Sodium Stearoyl Lactylate helps improve mix tolerance and volume)
Datem Replacer (Diacetyl Tartaric Acid Ester of Mono and Diglycerides is an emulsifier that gives strength and volume to bread)
Gums
90/10 Gum Blend
Alpha Gum (Guar Gum Replacer)
Xanthium Gum
Guar Gum
Contact us about reformulating your bread ingredients to achieve your baking goals with custom formulas from Thymly Products.